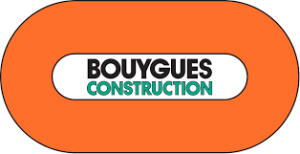 As the second least digitalized industry, the construction sector is fighting to get out of the rut. By using an economic intelligence programme, the French company Bouygues Construction is leading its employees towards an era of innovation.
The construction industry is currently the second least digitalised sector after agriculture. All other sectors have doubled their productivity while the construction industry has barely changed. Meanwhile international competitive has become fiercer and fiercer and could even take on a very different image from the USA or China. There is huge potential for transformation for Bouygues Construction who carried out a turnover of 12 billion euros across 60 countries through 4 key fields : construction, public works, energy & services and concessions. This transformation is carried out through partnerships. Bouygues Construction recently created a partnership offers service which targets large industrial groups. The goal is to co-develop new services and uses with a number of different sectors like energy, mobility, digital services, security (goods, people and data), health, the circular economy or urban services. This is also an open innovation department which looks after startup relations.
'We were looking for a more intuitive and a more powerful tool that the one that we were previously using, and Sindup was an obvious choice for us'
Victor Lacadee
Manager of the CI and Strategic Information Department
Key requirements for Sébastien Bessière, Director of Partnerships
"I need to identify the right topics, the right partners and above all 'what can we do together'", explains Sébastien Bessière. I need to have a proactive approach in order to find offers and reply to projects differently, in order to maintain a leading position on our markets. Market intelligence gives me a broad vision of the different actors on the market. With Sindup I have access to worldwide sources, from multiple countries and with multiple topics. With the alert system, every morning I receive information which I can share, when relevant of course, on our enterprise social networks like Yammer. On average I post 1 or 2 articles per day. I also use Socciable to share my topics of interest within our employee advocacy programme".
Choosing Sindup as a market intelligence tool by Victor Lacadee, Manager of the CI & Strategic Information Department
At a time when information has never been so accessible, being up-to-date is crucial, whether it be for sales teams, market or communication managers needing to be up to date with the topics which are relevant for them. Any information about the large projects like Grand Paris or the 2024 Olympic Games, but also new technologies relating to the construction industry (assistance, drones, robotization, virtual reality, 3D printing) or new trends related to cities (smart cities), these are all topics which needs close observation. Choosing a tool became critical in order to anticipate new trends, follow the competition and the projects in which the Bouygues Group is involved.
"We were looking for a more intuitive and powerful tool than the one that was already used, and Sindup came as the natural choice", explains Victor Lacadee. Certain topics bring about a large quantity of information which needs to be stored on the server and Sindup's is very powerful. As a CI analyst, I was also conscious of the importance of choosing a tool which is user friendly and easy to implement. Since main aim was to train analysts for whom competitive and market intelligence is not their main job, it is an important factor. With Sindup the sharing functionalities and dashboards allow us to make the information easily accessible for the different subscribers in the company. Sindup has been used since January 2018, we started with around 100 users, we have doubled this figure and we are likely to increase it even further!"
Implementing a collective solution with Sociabble by Agathe Ducellier, Social Media Manager in the Communication Department
The implementation of Sociabble is a project which was planned one year ago by the company headquarters Bouygues SA as an employee advocacy programme which aims to encourage employees to talk about their company, Agathe Ducellier explains. We were in the process of elaborating a strategy for this topic and Sociabble came and helped us in our approach to make employees ambassadors for their company on social networks. From an operational point of view this means a technological platform for the most at ease employees in the teams which we preselected. We supply them with market intelligence created using Sindup which they don't have the time to do themselves. We provide them with reliable content which is supplied by the company which they can share if they wish. We carry out a preselection of the topics: smart cities, innovation human resources, company news etc in close collaboration with the expertise and needs of employees. The idea is to provide more than just company content and above all not to transform them into a sandwich-board man or woman. It is gratifying for both the company and the employee!"