An effective, intuitive platform

Fast, Intuitive Learning
Enjoy a complete monitoring platform and get up and running quickly, through its intuitive interfaces! Each user gets immediate access to their monitoring through clear, well-designed interfaces..

Over 50 million International Sources
News, blogs, press releases, social networks, forums, consumer reviews, institutional sites … Connectors linked to sources specific to your field are available optionally.
Collection
Automatically filter and sort all the data! The Sindup BI monitoring platform uses a proprietary technology to learn to recognize information profiled based on the user's centers of interest. This way, FilterLive™ helps save time by automatically stocking the BI monitoring folders with relevant news.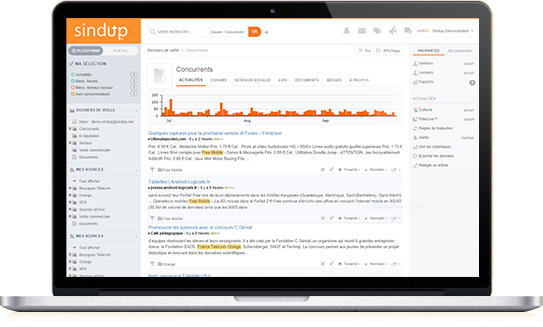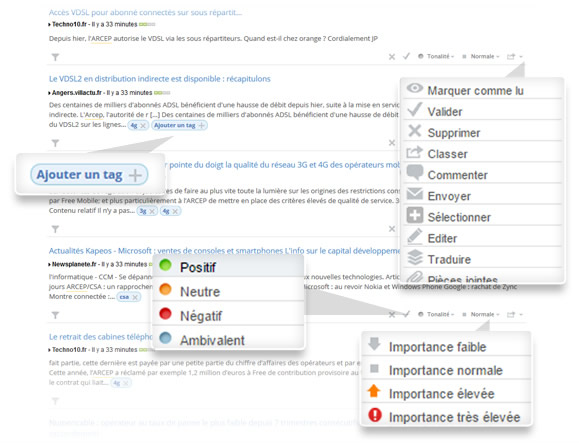 Processing
Manual or automatic qualification.
The data are refined and enriched with analyses and indicators to enable better understanding.
For each piece of information retrieved on the Sindup platform, different actions are available: tone, interest, comment, select, delete, mark as read, post to, send, classify, respond
Newsletter
Newsletters are particularly useful for regularly sharing important information with employees. SINDUP® lets you generate and customize these newsletters, select the recipients, the date and the sending frequency. Fully automated, a BAT system also validates content before each dispatch.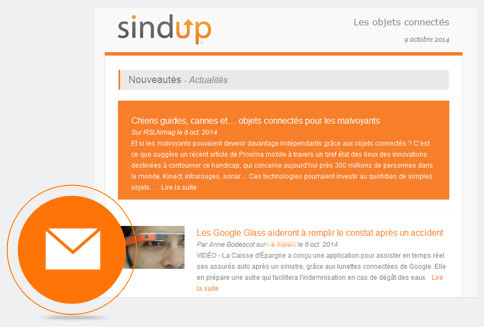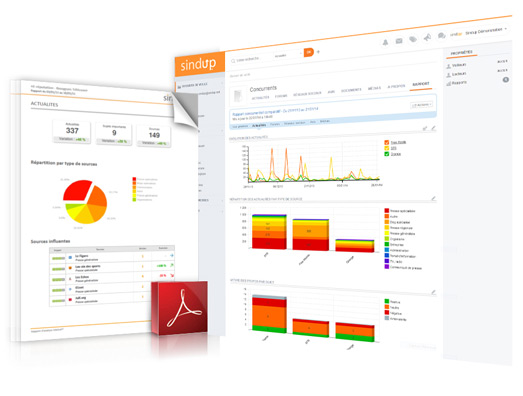 Analysis reports
Reports let you analyze the data collected as a result of the monitoring, in the form of interactive graphs; These graphs thus provide a visual representation of the quantitative and qualitative indicators for a given period. Automated when they are generated, they can still be edited to add comments before distribution, and can be exported as a PDF. Reports make it possible to bring up the following quantitative and qualitative indicators:
Measurements of data volumes by source type.
Detecting significant buzz or sukets.
Breakdown by support type.
Changes in volume over time.
Important sources.
Sentiment analysis (positive, negative, neutral).
Detecting the top trending tags found in the information collected…
Portal
Readers can access information intended for them based on their assigned rights, using a portal organized according to the monitoring folders authorized. The interface is based on the latest "Responsive Design" standards, making it possible to automatically adjust the ergonomics depending on the resolution of the terminal used: PC, tablets, smartphones…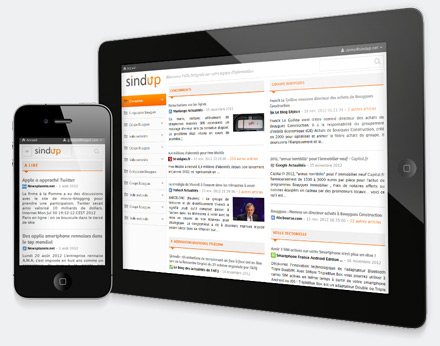 Sindup connects you to the world and much more
Using its API, Sindup connects to your intranet, social network, and enterprise tools.To find out more, contact us
A whole team at your service
We attach great importance to responsiveness and supporting our customers throughout the project: establishing requirements, training, and support.